Why is Proper Excavation So Important in Construction?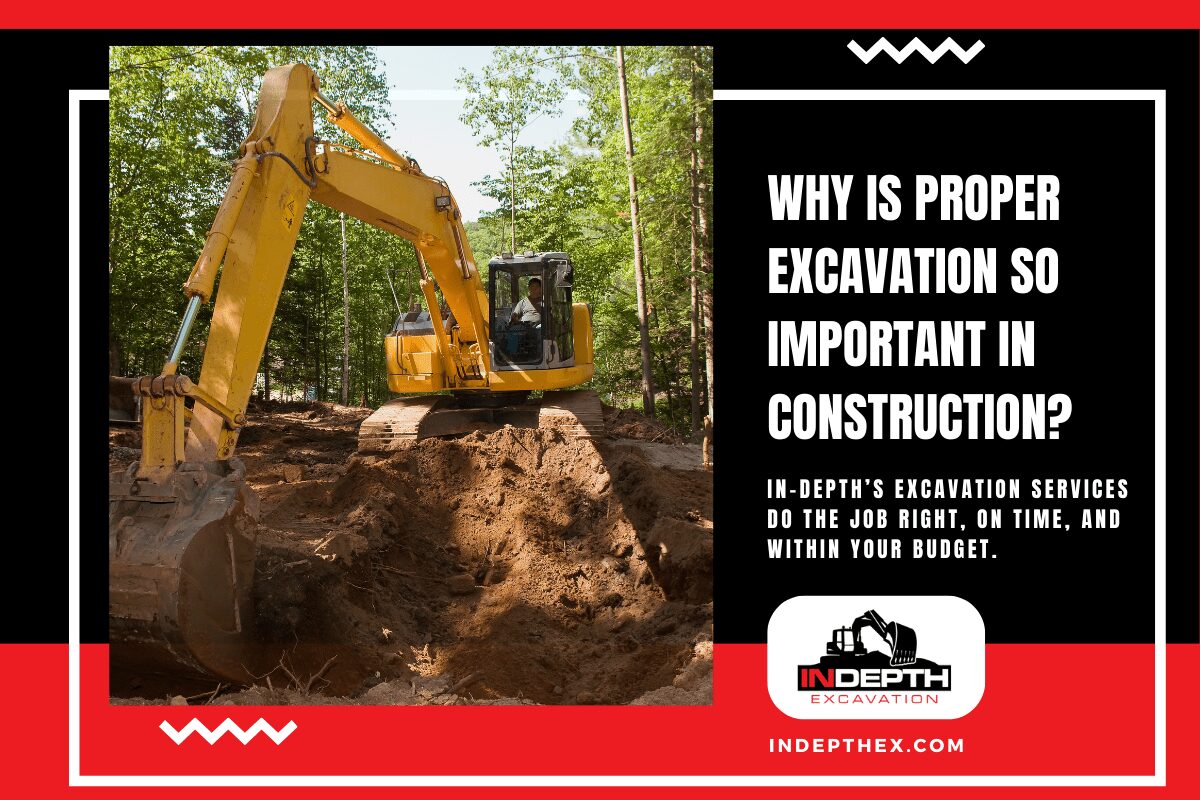 In-Depth's excavation services do the job right, on time, and within your budget.
Getting caught up in the moment's emotions is easy when working on a construction project. You want your new home or place of business to look amazing and be finished as soon as possible. But if someone is rushing through a project, they may not have taken the appropriate steps to do it properly.
If someone doesn't take care of all the details first, it can cause long-term problems that will cost more than if you had just taken your time and done things right from the beginning. This article will cover why proper excavation is so important in construction projects.
If you need an excavation service contractor in or around Monroe, Marysville, Snohomish, and Everett, In-Depth Excavation is your #1 excavation specialist. We do it right—the first time.  (425) 367-1521
Correctly leveling your land is essential for the longevity of your home or building.
When excavating land, it is important to ensure the surface is completely level. Why? Because if you begin to dig a hole before you have leveled your land and leveled out the foundation, you will be looking at long-term problems that can lead to your building sloping. This can cause serious issues with drainage in rainy weather and structural damage from water pooling up on one side of the house.
These problems include cracking foundations, misaligned doors, water running in places that it isn't supposed to, and more. It's all about ensuring everything is level from the beginning, so there are no surprises later on down the road.
Leveling your property is essential for any construction project because if it's not done correctly, it could cost you thousands of dollars in re-do work. If you want everything to be rectangular and symmetrical, then leveling needs to happen before anything else does because once dirt starts being moved around, it becomes very difficult for workers who are digging holes or doing other kinds of excavation work on-site with heavy machineries, such as excavators – hence why leveling should always come first!
Common problems with an uneven foundation
Doors can become misaligned, compromising the house's integrity.
Water can run in places it is not supposed to, causing moisture damage.
Cracks in foundations can signal that there's something wrong with the soil under your foundation. These cracks are a potential hazard for anyone walking nearby and must be repaired immediately before further damage is done.
Leveling your property will make or break the success of your construction project. There is no construction project that is so easy that skipping the fieldwork will do anything other than harm the end result.
Excavation is a critical part of any construction project. It's important in terms of your property's actual digging and leveling and ensuring that you have an even surface to build on. If you don't do it right, it could lead to problems like:
Your foundation won't be level with the rest of your property.
Water will pool around your house instead of draining away as it should.
Walls and floors won't be straight or flat.
While you may save some money initially by not dealing with excavation and preparation properly, you will likely spend way more money making repairs down the line.
You may be tempted to forego excavating and preparing your site properly, especially if you are planning a budget-friendly project. However, this kind of short-term thinking can lead to costly problems. As the saying goes: "You get what you pay for." If you don't invest in proper preparation in terms of time or money, then problems like settling and shifting will come back to bite you later.
Don't be afraid to call us if you have questions. We can look at your project and give you a free estimate on work that can save you thousands of dollars. It is our goal to finish the project safely and properly. (425) 367-1521
If you're less than happy with a particular service that you've received in the past, give us a call and find out if we can help make it right for you. You might be unaware of the options available to you.
In-Depth Excavation never takes a shortcut to get a job done. We pride ourselves in providing the best in excavation services while maintaining the highest standards of quality, customer service, and project management. Our team is dedicated to making a difference in our community through hard work, honesty, and integrity.
Why Hire In-Depth Excavation Contractors?
In-Depth Excavation is at your service. We strive to provide quality service and stress-free experiences for our customers. With our extensive knowledge of local ordinances, we provide efficient services that improve your home value and utility efficiency.
In-Depth Excavation has the expertise to level and grade land for the optimal longevity of your structure.
In-Depth Excavation upholds the highest standards of ethics in safety. They practice the management of comprehensive security procedures and precautions at all times. In-Depth monitors excavations, adjacent areas, and hazardous zones with pre-planned safety checklists and preparations. 
If you're thinking about recruiting a skilled excavator, you'll also want to consider the size of your project. There are plenty of Snohomish County and King County excavators, but some can only do smaller jobs.
In-Depth Excavation uses the most advanced equipment and training to provide a quality service at a reasonable price. We take pride in our work and are completely insured. Our company was established in 2010. Over the years, we have developed many connections with the community, government, and other businesses. We look forward to working with you on your next project.
I hope this article has shown you just how important proper excavation is to the success of your construction project. While you may be tempted to skip the excavation step and save some money, in reality, it will only cost you more when your home or building slows or falls apart.
Customer Review
"I contacted In Depth via email; Dillon called me the next day and was available to stop by for an estimate soon after that.
I wanted to salvage as much wood from the previous owner's mill-working (?) structure as possible to use elsewhere on my property.  Although I decided not to go with the more work-intensive salvage option due to my budget, Dillon was able to instead skillfully pull down the structure with his truck with little damage to the overall amount of wood I wanted to re-use.  This more cost-friendly option worked out perfectly, and as soon as I finished salvaging what I wanted, Dillon returned and hauled the rest (plus some extra junk) away.
Throughout the process, Dillon was professional, friendly, and easy to reach via text/phone, and I appreciated not having to wait for responses.  All in all, a smooth experience and one less thing on my to-do list.  Thanks!" ~ Scott Bernstein
See our service page for a list of our extensive excavation services.