Snohomish County Earth Moving
In-Depth Excavation is your #1 source for earthmoving in Snohomish County. In-Depth Excavation provides expert excavation techniques to make your home project great.
Earthmoving is the essential step in a construction project that requires removing tree stumps, dead trees, debris, or large quantities of dirt. It is necessary to move these natural items away to clean the land for projects. Digging, pushing, and moving large amounts of dirt are also included in earthmoving. Large motor equipment such as tractors, cranes, and hydraulic excavators maneuver the earth and eradicate obstacles.
Are you dreaming about more gardening space, a larger deck, or just cleaning up an unsightly area? Do you want to install a pool, swing set, or perhaps an area for sports? You may want a flat surface for construction or a sloped area to build a rock wall or irrigation system for gardening.
Outdoor projects require a lot of effort. Without the right tools and equipment, you'll find that you can't do it by yourself. There's the heavy lifting, organization, design, and knowing where all the materials will go. Do you have a plan for what to do with excess materials leftover? When it comes to a new yard project, there is plenty to tackle.
Before starting any project, you need a strategy for accurate measurements and calculations. You'll need some project management. Even if you are simply adding space to your backyard, taking everything into account is why you hire someone with experience. A knowledgeable excavation expert understands the space you are working with and the earth materials that fill it.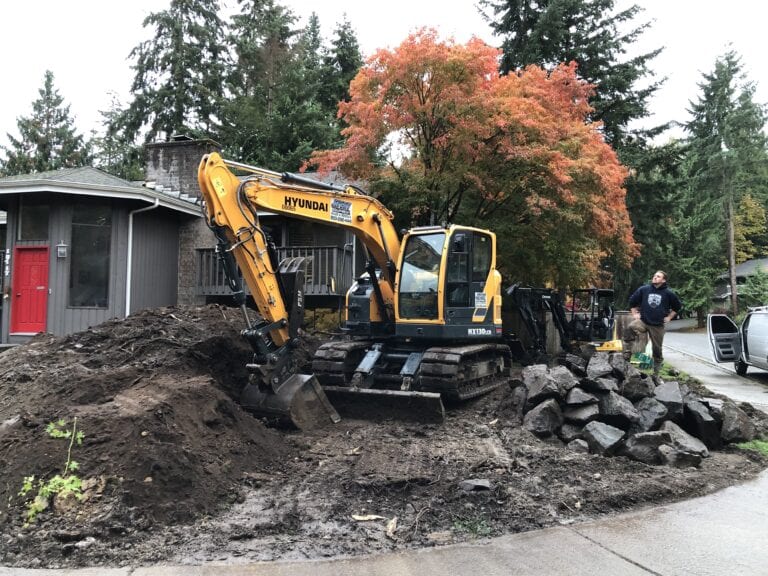 In-Depth Excavation has In-Depth Experience
Safety is Key
In-Depth Excavation has the experience of looking for underground hazards such as electrical wires, plumbing, septic systems, and knowing what questions to ask before digging. You may not always think of these things if trying to do a project yourself. You want your project done, but having expert comprehension from a leading excavator provides safety to your undertaking.
Customer Communication is Standard
With In-Depth Excavation, your concerns are top priority, and we are always responsive to calls. We can manage your specifications, customize planning, and stay in contact with you. If something comes up, there is a change in plans, or a problem has arisen, we are open-minded and flexible. We will find a solution to any challenge, and most likely, we've dealt with the issue before. All you have to do is let us know.
Truth, honesty and being upfront is an important value for In-Depth Excavation. You will always receive superior customer service while we work for you.
Contractor Communication
In-depth Excavation is always ready to communicate effectively with your other contractors. We have experience working with local builders, developers, and area service companies. We work well with teams and act as cooperative parts to make sure your job finishes successfully. If you need a service contractor, we can also give recommendations or point you in the right direction.
We are affordable
A fair and accurate estimate is given to you promptly, and work finishes within the quoted price. We will always let you know any money-saving suggestions to help you with the budget.
Permits
In-Depth Excavation is proficient with permits and applications (if) needed for excavation projects.
In-Depth Excavation provides earthwork services for Snohomish County.
Digging holes or trenches

Grading land

Leveling

Building garages

Adding sidewalks

Landscaping

Sewer lines

Water repair
"I had a somewhat complicated project in Everett, but In-Depth Excavation took care of it very professionally and on time. My project required tapping into the main sewer from my property but under a big retaining wall. The guys got all the materials, surveyors, soil engineers, and city and county inspectors handled. Everything went well, and the project was done and approved by Silver Lake Sewer District and Sno County. All this was done within the quoted price. I would recommend In-Depth Excavation to anybody, and I will definitely use them again in the future."
Whatever plans you have for your yard refinement project, we have all kinds of remedies and recommendations to get your project moving forward.
Affordable earthmoving services are available in Snohomish County when you call In-Depth Excavation. In-Depth has the machinery, tools, and power combined with over 20 years of excavation experience.
We offer advice when excavation guidance is needed. If you have a project or questions, contact us at (425) 367-1521 or at www.indepthex.com.