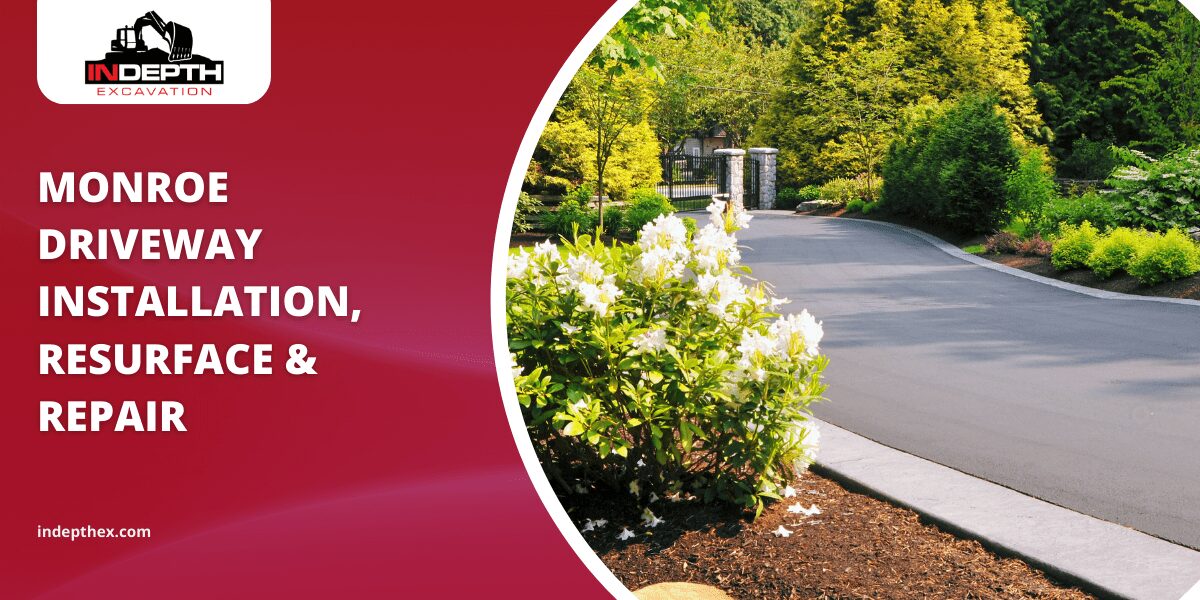 Monroe Driveway Installation, Resurface & Repair
The Northwestern weather patterns beat up paths, walkways, and areas with high foot traffic. Rain is particularly nasty to asphalt, blacktop, and stone driveways. Cracks, gaps, and fractures break their way into concrete foundations and driveways. The devastating high heat does even worse with cracking and breaking. Repeated driving, parking, and the daily grind of tires wear away at the entrance of your home or business.
If you put off repairing cracks, cavings, and potholes, they quickly worsen and turn into ugly, expensive sunken driveway slabs. Patching troubled areas in the driveway only hold for a very limited time and will not withstand long, hard winters. Pretty soon, your driveway will require a major overhaul.
Having a troubled driveway is an ugly, expensive problem that homeowners often put off. Don't wait until you are faced with a sunken slab. Choose professional concrete repair and renewal services, and get your concrete surfaces looking like new again. It's best to call In-Depth Excavation for any questions you have concerning excavation services for your driveway. (425) 367-1521
Your driveway is the largest and most visible feature of your home. It's an important part of your property—and it should look great. At In-Depth Excavation, we offer a wide range of services to keep your concrete or asphalt driveway in top condition so that you can enjoy it for years to come. Our professionals use the latest techniques and tools to ensure that your driveway is structurally sound, aesthetically pleasing, and ready for whatever Mother Nature throws at it!
In-Depth Excavation Services are Monroe's driveway installation & repair experts.
Excavation is the process of digging a hole. This can be done to create a new space where there wasn't one before, such as when making a driveway or parking lot. 
Whether this is something built from scratch or just some old debris cleared away so everyone has a safe place to park, In-Depth Excavation has experience helping families and civil contractors from Snohomish, Monroe, Mill Creek, Everett, and everywhere in between!
When you need to install, repair or repave your driveway, turn to the professionals at In-Depth Excavation in Monroe. We are highly skilled in land clearing, earth grading, and water drainage methods, the first steps for driveway installation projects.
We use the highest standards in the excavation industry for new driveway installation. Our prices are affordable, and quality workmanship is our priority. We will discuss all possible options for your new driveway installation, including material costs and the pros and cons of each material. Feel free to ask questions during our consultation about the benefits of gravel, asphalt, blacktop, concrete, and tar. We provide advice and guidance on how to create a functional design that fits your budget.
In-Depth Excavation offers exceptional driveway and parking lot removal, repair, and installation services. We take the time to remove your old driveway or any space you want to be a driveway in an efficient, reliable, and affordable manner.
We install, repair and resurface driveways in Monroe, Snohomish and the surrounding areas.
Our driveways improve your curb appeal.
We pave or pour concrete for other areas such as sports courts and playgrounds.
We always do the job right the first time so that your driveway lasts a long time.
We are a driveway contractor providing expert services to our community. We have over 20 years of combined experience installing and restoring driveway surfaces. Our skilled contractors will guide you through every step of your project and ensure that your access road, concrete, and platform projects are perfect and long-lasting.
Signs That Tell You it is Time to Excavate Your Asphalt or Concrete Driveway
The first sign you need to excavate your asphalt or concrete driveway is cracking and crumbling. Decay and breakage happen when the ground underneath the pavement gets too hard, and it's unable to support its weight anymore. The next common sign of a damaged driveway is potholes, caused by water getting into cracks in your pavement and freezing during winter when temperatures drop drastically.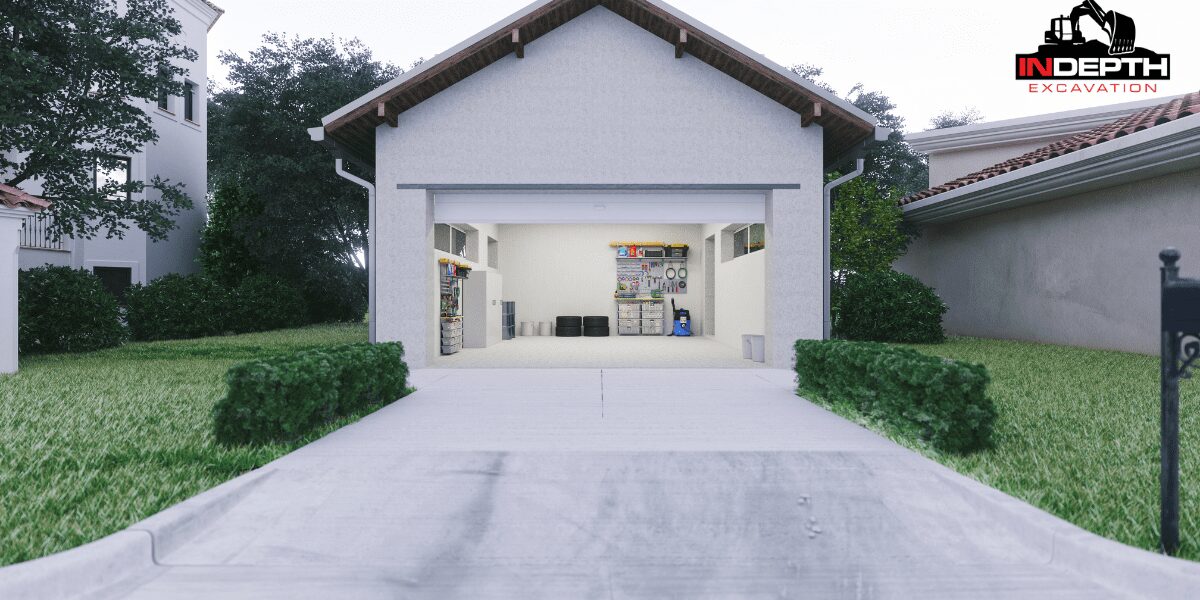 Repairing Cracks in Concrete and Asphalt in the Driveway
If your driveway looks a little worn around the edges, that's because it is. Cracks are a natural sign of aging for concrete and asphalt, but don't worry—they're easy to fix.
Technicians usually repair cracks in your driveway with one of these methods:
Patching: This method involves filling the void with quick-drying cement grout or an epoxy compound. As long as the crack isn't too large or deep, patching should be enough to hold you over until your next project.
Repair kit: Kits like this contain everything needed for small repairs on slabs or driveways—including tools and accessories like trowels and brushes so you can get started right away (and have fun while doing it!). They even include a color chart, so you know exactly what shade matches up best with your existing home color scheme.
Our experts are more than happy to guide you through the process of installing your new driveway. You are welcome to express your ideas as we will give you suggestions that will manage the installation, save you time and money, and offer solutions to anything you need. We'll take the stress out of the project, and leave you with a fresh, brand new driveway.
Regular excavating services are essential to maintaining a beautiful driveway. Driveway excavation is an important part of driveway maintenance, and regular excavating services can help extend its life. Excavation services can also keep your driveway looking great, so it's a good investment for homeowners who want to protect their property from damage and ensure it stays in top shape for years to come.
Monroe's Best Excavation Team is In-Depth Excavation
We specialize in excavating any job site. Anything from digging holes and trenches, grading land, leveling, building driveways, installing sidewalks, landscaping or even sewer lines. We will take care of your project with quality workmanship and timely completion.
We're efficient with trenching, side sewer, and french drains that solve erosion problems, uncontrolled water runoff, sloping, and faulty drainage which is a common problem with driveways. We work with many reputable contractors for expansion projects. We understand that plans change and vary, so we are flexible and considerate of your preferences.