Everett
Excavation

Services
In-Depth Excavation: Your most trusted excavation contractor in Everett
In-Depth Excavation clears and moves soil, dirt, rocks, and earth from Everett's toughest jobs. Whether your project is on a construction site or at home, we'll clean your land before you build. We have over 20+ years of experience in land clearing, digging, and earthing.
Our most important feature is listening and communicating with clients to ensure the job finishes satisfactorily. We are always professional, courteous, and responsive to our clients. You can explain to us what you need, and we will guide you through the excavation process. We offer many excavation services such as demolition, grading, wet and dry excavation, and driveway installation.
Everett Excavation Services
Customer Problem: How do you eliminate all the natural debris that piles up outside around your house in Everett? Everett's Northwestern winters and stormy springs can spread around trees, branches, dirt, leaves, and structural debris that make a mess of your property.
Has a massive encroachment of blackberry bushes invaded your yard? Would you like to start a garden and can't because the blackberries have overrun entire areas of your property? Old-growth trees, dead wood, and stumps block light from the healthy areas of your land.
You may be at the point where you want to take it all down and start over. Maybe you want to clear space behind the old garage and build a nice new structure or even a garden. You have many ideas and dreams about how you want to use your property, but you can't do it by yourself.
Perhaps you have drainage issues on your property, flooding areas, swamps, or wetlands that are too close to the house. How do you find someone that can manage all of it at once? In-Depth Excavation is here to help!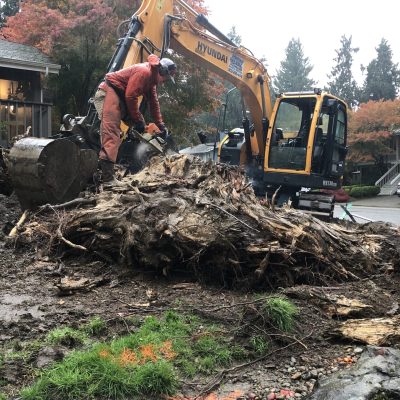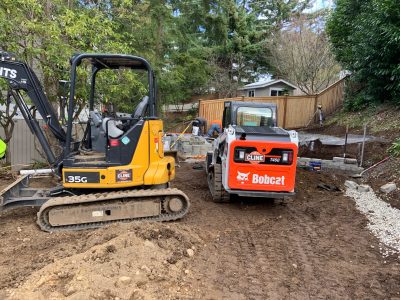 You may have a plan, hired a contractor, or haven't done either, and are still unsure what to do. What you need to do is call a locally owned and operated Snohomish County excavation company. In-Depth Excavation is an excavation expert that will help you begin your yard clean-up or repair project. We provide excavation services in Snohomish County and surrounding areas.
You may want to use extra space on your property, build a deck, add a structure, or take a structure down. We are available to assist you in the digging, filling, and smoothing out of work areas. We level and flatten rough terrain for gardens, sidewalks, side sewer projects, and more. When you need land clearing in Everett, we provide the service.
If you are building an underground structure such as a well or repairing sewer lines and pipes, we are trenching experts. We help you with digging and providing earth support for side sewer and water service repair.
If you have an unsightly or unattractive structure that needs removal, we provide demolition services. We remove structures and will carry away leftover materials.
In-Depth Excavation provides solutions to your back-yard and excavation problems.
If you are dealing with overgrown weeds, blackberry bushes, and general yard waste, our excavation services will help you clean up your yard and property. We understand drainage problems and the solutions that fix them.
We will listen to your concerns, issues, and goals and find a solution that works for you. We are available to facilitate the digging, filling, and smoothing out of work areas. We level and flatten rough terrain for gardens, sidewalks, decks, landings, pools, and kid's play areas. We dig and open spaces for side sewer projects, water pipes, and more. When you need excavation in Everett, you want to call In-Depth Excavation.
Why you need excavation services.
Digging holes or trenches
Grading land
Leveling
Building garages
Adding sidewalks
Landscaping
Sewer lines
Water repair
In-Depth Excavation services include:
Dry and Wet Excavation
Demolition
Earth Moving
Grading
Driveways 
In-Depth Excavation is:
An owner-operator in Snohomish County and surrounding areas.
Proficient and experienced in planning and execution of demolition.
Knowledgeable of engineering rules, regulations, and provisions of demolition procedures.
Always concerned about sustaining high regard for safety measures and practices.
Focused on prioritizing effective communication with other consultants, contractors, employees, and clients.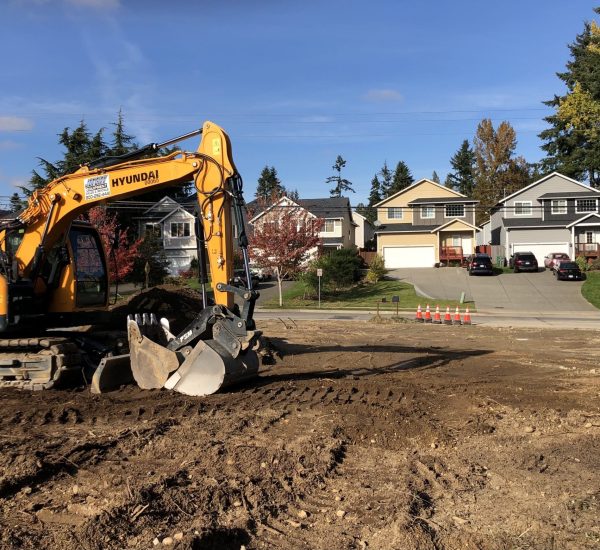 If you require a contractor for yard expansion or are building a structure or repairing underground pipes, we are more than happy to recommend trusted and reputable providers. We work well with contractors and communicate well regarding designs, plans, and project goals.
In-Depth Excavation is different because we get back to you immediately. We have all the tools available for proper excavation procedures and are ready to go. We are highly responsive and ready to help you.
How does it work?
All you have to do is call (425) 367-1521 and tell me your idea for your project or the problem that you are having. I'll let you know my recommendations or stop by to see what I can do. You can also email me at info@indepthex.com or use this website's contact form for your FREE quote.
Disclaimer: The information on this website is general information about the excavation. It may or may not be relevant to the customer's needs as each customer's need is different. Each project varies and is completed as an individual plan determined by In-Depth Excavation.