How Can Excavation Hazards be Prevented?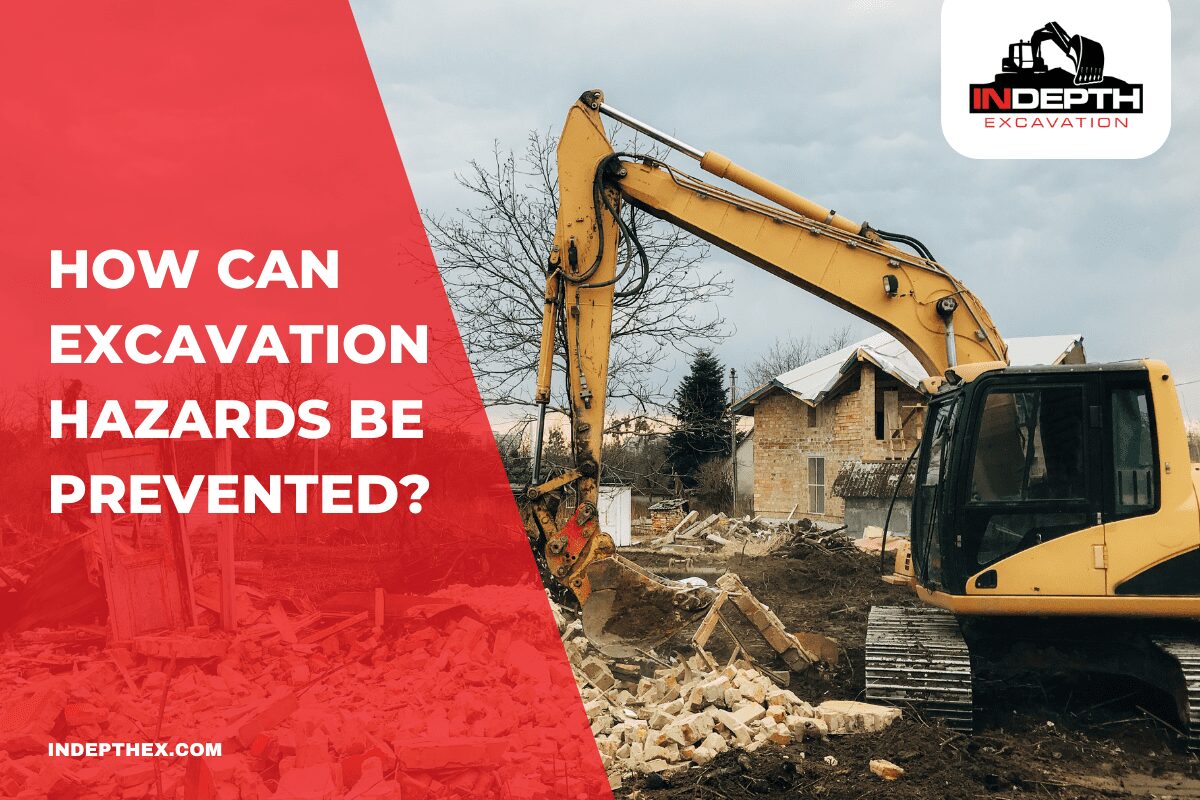 Important procedures and tips from the experts in safety excavation practices in Everett and Snohomish
As a leading Snohomish excavation contractor, In-Depth Excavation understands the importance of working in and around a safe atmosphere. Our employees are fully trained, certified, and continuously practicing safety techniques and procedures at each job site. They are always looking out for the protection and safety of each other, our clients, and the community.
We want to encourage anyone performing excavation to learn and incorporate these helpful tips to ensure the job site is safe. If you are not a professional excavator and have not had the proper training, do not start excavating on your own.
If you want a project done and you need help, call us. We will work with you with the budget that you have. You don't need to get hurt by trying to do something so dangerous that you could get extremely hurt or even lose your life.
Working in the trenches is dangerous.
The EHS (Environmental Health and Safety) reports, "A brief lapse in judgment or a shortcut to save a little time could result in tragedies that impact workers and their loved ones forever." The EHS also said that the mortality rate of excavators and those workers who work mostly in ditches is 112 percent higher than the rate for general construction. According to the Bureau of Labor Statistics, two workers are killed monthly due to trench collapses. The U.S department of labor, we've lost 22 workers in the early half of 2022.
On July 14, 2022, the US Department of Labor announced the following.
An alarming rise in trench-related fatalities spurs the US Department of Labor to announce enhanced nationwide enforcement, additional oversight.
The news release stated that all of the accidents could have been avoided if simple rules had been in place and followed accordingly. Points made in the news release included:
"The Occupational Safety and Health Administration is calling on all employers engaged in trenching and excavation activities to act immediately to ensure that required protections are fully in place every single time their employees step down into or work near a trench," said Assistant Secretary for Occupational Safety and Health Doug Parker. "In a matter of seconds, workers can be crushed and buried under thousands of pounds of soil and rocks in an unsafe trench. The alarming increase in the number of workers needlessly dying and suffering serious injuries in trenching incidents must be stopped."
"Every one of these tragedies could have been prevented had employers complied with OSHA standards," Parker continued. "There simply is no excuse for ignoring safety requirements to prevent trench collapses and cave-ins, and leaving families, friends and co-workers to grieve when the solutions are so well-understood."
OSHA has made reducing trenching and excavation hazards the Agency's Priority Goal. Trench collapses, or cave-ins, pose the greatest risk to workers' lives. To prevent cave-ins:
SLOPE or bench trench walls
SHORE trench walls with supports, or
SHIELD trench walls with trench boxes
Guidance to strengthen excavation safety procedures.
"To protect workers from injuries and fatalities, preventive measures should be implemented when workers begin excavating. According to OSHA, general safety measures to follow should cover the following:
Inspect trenches daily before work begins. Don't go near an unprotected trench.
Check weather conditions before work, be mindful of rain and storms.
Keep heavy equipment away from trench edges.
Be mindful of the location of utilities underground.
Always wear proper protective equipment.
Don't work beneath raised loads.
Conduct atmosphere tests. If low oxygen and toxic gasses were detected, workers must not enter the trench.
Protective systems like benching, sloping, shoring, and shielding must be created.
Planning and implementation of safety measures must be done by a competent person.
In-Depth Excavation always follows safety protocol.
Excavation Safety Checklist
Worker Qualifications and Expectations
Use OSHA safety standards & Procedures
If you want a safe excavation with professional project management, call In-Depth Excavation.