Earth Moving Excavation Services - Monroe/Lake Stevens
Affordable Earth Moving Contractor – In-Depth Excavation is the preferred excavation specialist in Monroe, Lake Stevens, and Snohomish County. Delivering professional, courteous, and responsive service to clients, In-Depth Excavation is the #1 excavation company to call for earthmoving services. (425) 367-1521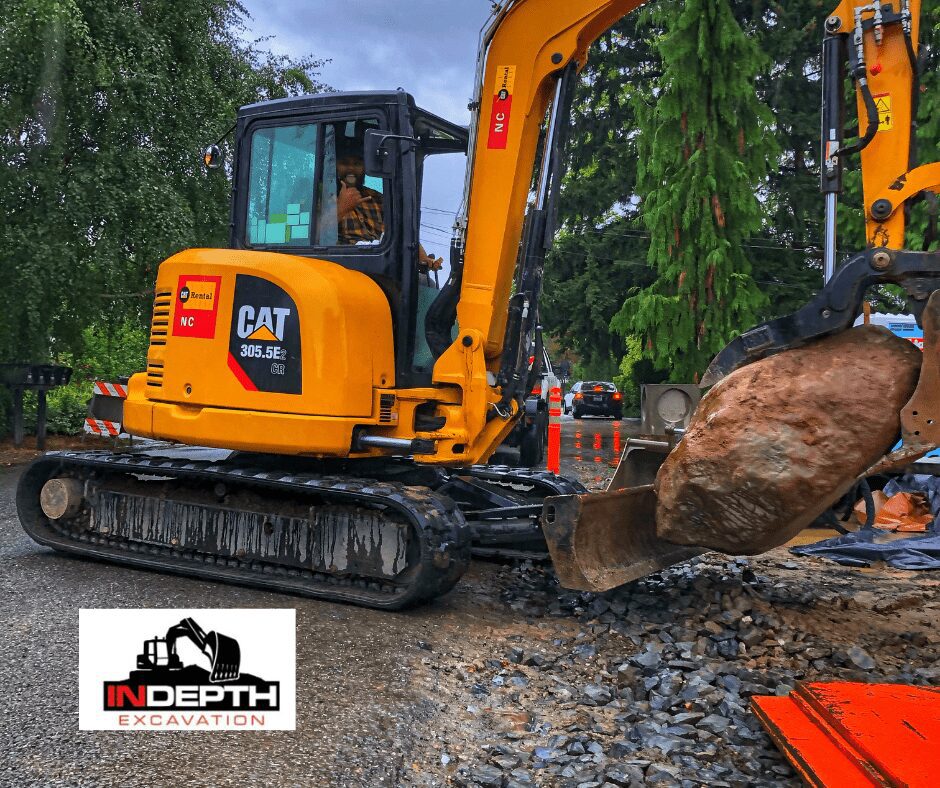 If you are searching for professional earthmoving excavation services in Monroe and Lake Stevens, In-Depth Excavation is Snohomish County's #1 expert excavator. In-Depth Excavation offers a wide range of excavation services that include:
Digging holes or trenches
Grading land
Leveling
Adding sidewalks
Landscaping
Sewer lines 
Water repair
Project Consultation and Guidance
In-Depth Excavation includes consultation and guidance for earthmoving projects. If you have a goal in mind and need assistance with the process, In-Depth provides a strategic plan, solutions for project challenges, and a process that will work within your budget. 
Our earthmoving capabilities are geared specifically to your needs. With 20+ years of excavation experience, we are proficient with big, medium, and small projects on all types of land including residential, commercial, and agricultural.
In the past 20 years, we have established relationships with area general contractors and are pleased to work with anyone on your team.
Earthmoving & Land Preparation
Earthmoving is the essential step in a construction project that requires removing tree stumps, dead trees, debris, or large quantities of dirt. It is necessary to move these natural elements to clear the land for projects.
When hiring earthmoving experts in Lake Stevens and Monroe, it's important to find a professional who understands different land types and works with the local landscape.
In-Depth Excavation has an in-depth comprehension of how the Snohomish County land works and functions. Our experience includes moving large amounts of dirt, trench digging, adding channels for draining, and septic systems. We have the advanced excavation training needed for earthwork in Lake Stevens, Monroe and Snohomish County.
We dig into the land's surface, remove unusable materials, then move it, grade it and lay it out to prepare for construction. Laying out a land area requires knowing how much dirt to remove for the specific project. We use our own equipment such as laser transits, excavation tools, and machines so that you never have to rent tools for the job or hire extra labor.
In-Depth Excavation incorporates the best techniques needed to perform the job safely, accurately, and efficiently. We are familiar with local ordinances, necessary permits, and how to fulfill the job's requirements. We can discuss any concerns you may have and find what works for you.
Our major concern is to listen to the client and deliver exactly what is asked of us. If there is ever a question or simply a change in plans, we are flexible and easily shift gears. We care about all aspects of the job, but listening to the client is crucial. We want to give you the best results with an overall stress-free experience.
"Dillon and his crew completed an extensive job for us that at least one other company wouldn't touch. The knowledge he brought to our job site was incredible, and the team worked very efficiently. The outcome far exceeded our expectations. He was prompt with getting us a bid, payment was painless, and his professionalism was refreshing." ~ Brett Blaire
Call In-Depth Excavation for Lake Stevens and Monroe Earth Moving Services.