Land Clearing – Snohomish County
It happens so fast in Snohomish County. You look out your window only to see a mass of natural vegetation overgrowth. Blackberry bushes are growing over your fence faster than you can handle. Fallen trees, foliage, and leaves are in piles around your house. Birds, bees, insects, and squirrels are nesting in underbrush and shrubbery. The neighbors are just two steps away from complaining about your property. You've got to clean it up. On top of that, you have plans for an outside project.
Did you plan to build a pond, a treehouse, or a new deck for entertaining? You look outside, and you don't see anything but a mess. What happened to those plans?
You figured a few days off work would suffice to build your project. Then you realize that your plans were a bit ambitious. You can't move tree trunks or massive earth piles with a rake and a wheel barrel! There aren't enough tools at Home Depot for the job you want. What you need is an experienced Snohomish County excavator to clear your land.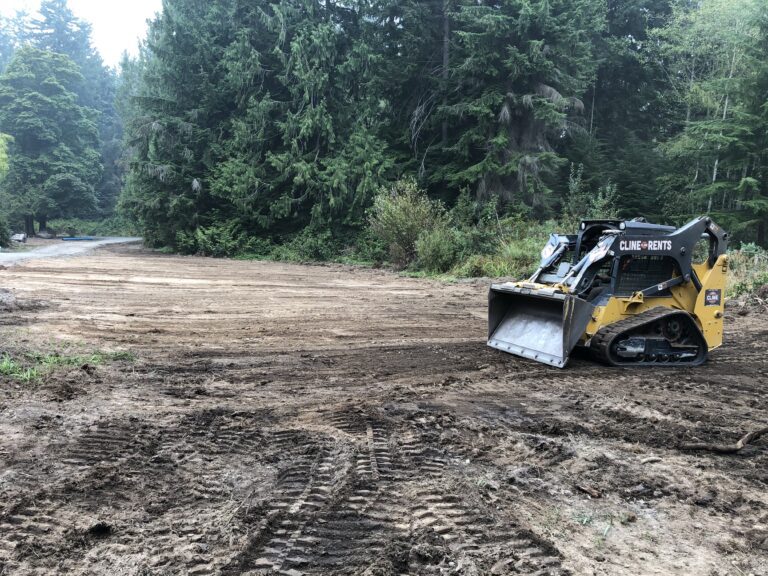 Land clearing services remove trees, overgrowth, brush, leaves, stumps, and bumpy terrain. In-Depth Excavation removes difficult, knotty terrain and prepares it for your project. No matter what material has grown its way onto your property, we can take it out. With our land clearing services, you can sit back, relax and let the land clearing professionals take control.
Land clearing transforms your property into workable land. Land clearing experts use machinery built specifically for the removal of deep-rooted growth. With over 20 years of excavation experience, In-Depth Excavation are the specialists you need to clear your land.
In-Depth Excavation are land clearing experts
In-Depth Excavation has the methods to enhance your project safely and efficiently. Our work is finished promptly and with care. We communicate with you about plans and are flexible when plans require changing.
Not only will we clean and clear your land, but we'll also consult you on your project. We develop a strategy and execute a plan that leads you closer to your vision. You can tell us exactly what you have in mind, and we show you the way. If applicable, we'll find the means to save you time and money. 
We provide you with clear solutions to excavation problems and challenges. We approach each project with consideration and will provide you with exceptional service. 
Land Clearing services include:
In-Depth Excavation maximizes the land's usage.

Finishes within budget and on time.

Knowledgeable with Washington State terrain, environmental factors, laws, and permits.

Follows directions, communicates with all involved parties, other contractors, clients, county, and neighboring projects.

Cost-effective solutions.

Up to date with required registrations, licenses, insurance forms, worker's comp.

We practice safety protocols, procedures, and requirements.

In-Depth Excavation has references and reviews.
In-Depth Excavation is passionate about our work because every successful project makes us better at our craft. We are committed to your positive customer experience. If there is anything you need, we will guide you through the excavation process.
We insist on the highest standards of ethics in our work. We pay attention and follow through on the entire project accurately. We always complete the job with precision and detail.
"I reached out to In-depth for yard clean up, and junk haul away, and Dillon was extremely responsive throughout the whole process. He gave me a fair quote for the work and was receptive when I reached out and asked for some additional work and gave me a fair quote for the add-on. He was professional and communicative throughout the process. I am really happy with the work."
Now you can build that pond, treehouse, or deck. You can proudly invite friends over to share your cool, new space. With In-Depth Excavation's yard clearing services, you will have earned respect from the neighborhood.
We offer advice when excavation guidance is needed. If you have a project or questions, contact us at (425) 367-1521 or at https://indepthex.com/.