Cracks, gaps, and fractures break their way into concrete foundations and driveways. Repeated driving, parking, and the daily grind of tires wear away at your home or business's entrance. The Northwestern weather patterns beat up paths, walkways, and areas with high foot traffic. Rain is particularly nasty to asphalt, blacktop, and stone driveways.
Your driveway and walking spaces need maintenance and renewal. If you put off repairing cracks, cavings, and potholes, they quickly worsen and turn into ugly, expensive sunken driveway slabs. Patching troubled areas in the driveway only holds for a very limited time and will not withstand long, hard winters. By the time spring arrives, your driveway will require a major overhaul.
In-Depth Excavation is Snohomish County's #1 driveway repair and installation experts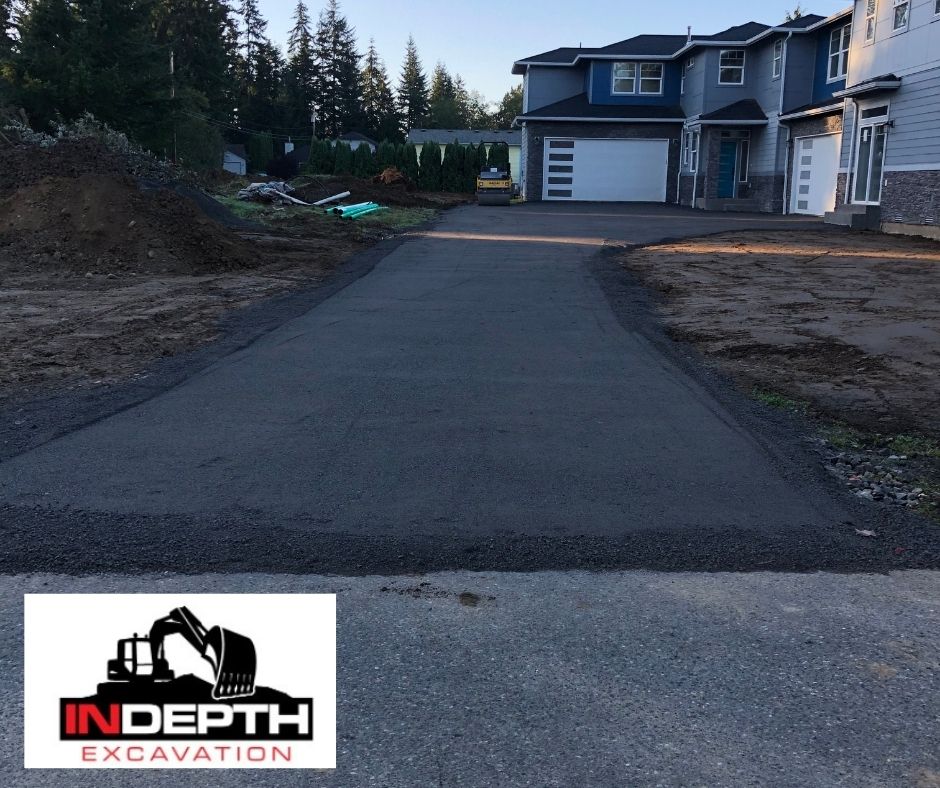 In-Depth Excavation is Snohomish County's #1 driveway repair and installation expert. We have the driveway paving, installation, and repair experience that will maintain your driveway for years to come. We are highly skilled in land clearing, earth grading, and water drainage methods, the first steps for driveway installation projects.
We have over 20 years of combined experience installing and restoring driveway surfaces. We are certified, bonded, and insured excavation contractors. We guide you every step and ensure that your access road, concrete, and platform projects are perfect and long-lasting.
We use the highest standards in the excavation industry for new driveway installation. Our prices are affordable, and quality workmanship is our priority. We are knowledgeable about local ordinances and will help you with the necessary permits. We will discuss many options available for new driveway installation, plus provide recommendations on the best materials. Feel free to ask questions about the benefits and variations between gravel, asphalt, blacktop, concrete, and tar. We provide quality assistance if you have a design in mind that you need help with or would like guidance.
In-Depth Excavation takes the time to remove your old driveway or any space you want to be a driveway in a safe and efficient manner. We haul away dirt, debris and rubble, preparing and reworking the area so it is smooth and ready for use.
We are efficient with trenching, side sewer, and french drains that solve erosion problems, uncontrolled water runoff, sloping, and faulty drainage.
We work with many reputable and local contractors for expansion projects. We understand that plans change and vary, so we are flexible, open, and considerate of your preferences.
In-Depth Excavation includes any of the following services to complement your project.
Digging holes or trenches

Grading land

Leveling

Preparing driveway space

Adding sidewalks

Landscaping

Sewer lines

Water repair
Reliable Customer Experience
The unique difference with In-Depth Excavation is your positive customer experience. We are available to view your project in person. We are affordably priced and will help you save money by finishing your job within your budget.
Check out a few great reasons Snohomish county chooses In-Depth Excavation for driveways and all types of grading, land clearing, and dirt removal projects.
In-Depth Excavation listens precisely to what you want and will meet your needs accordingly.

In-Depth Excavation cares about safety issues and treats your property with consideration.

Skilled and experienced with driveway excavation services.
Communicating with our customers is always our main objective. We listen to your concerns from the beginning and do the requested work. We finish the job with your intentions in mind, and we always leave the job cleaner than when we arrived.
Dillon and his team were awesome to work with. I appreciated the team's willingness to do what it took to accomplish what I had envisioned. They were very thorough and diligently finished with quality. Thank you for doing a great job! ~Don HjortThank you for doing a great job! ~Don Hjort