Side Sewer Repair in Monroe: What you Need To Know.
As a property owner, you are responsible for maintaining and repairing your lateral sewer. These repairs include the lateral from the house or building down to the City main. If you have questions about your side sewer, live in Monroe, Everett, Snohomish or Lake Stevens, and think that you need repairs, call In-Depth Excavation for professional and reliable side sewer installation. (425) 367-1521
If you are a general contractor in the Snohomish area, and are in charge of new house construction, In-Depth Excavation are pros at installation of side sewer and water systems. Call us today. (425) 367-1511
A side sewer is the lateral sewer line connecting your home or building to the city's main sanitary sewer. Aside from regular maintenance, there are many other reasons why a sewer lateral may need repair.
Plants that grow through cracks in pipes
Tree roots that have grown into pipes
Sewer lines with bellies caused by shifting soil
Water leaks or seepage into the ground, which can cause erosion around pipes
It is the responsibility of the property owner to maintain and repair their side sewer from the house or building down to the city main.
The property owner's responsibility is to maintain and repair their side sewer from the house or building down to the city main. It is not the city's responsibility to do this for you. You must do your part to make sure that you receive a clean, reliable water supply.
As a homeowner, you are responsible for the proper maintenance of your sewer line. The city is only responsible for maintaining the City-owned sewer main.
If you detect that your side sewer is clogged or malfunctioning, call a plumber or drain cleaning service to recommend and make repairs to correct the problem.
If they determine that the blockage is located in the private lateral, the repair will be on your dime. If it's determined to be in the City main, they'll notify their contractors and repairs will be made within 24 hours time (weather dependent).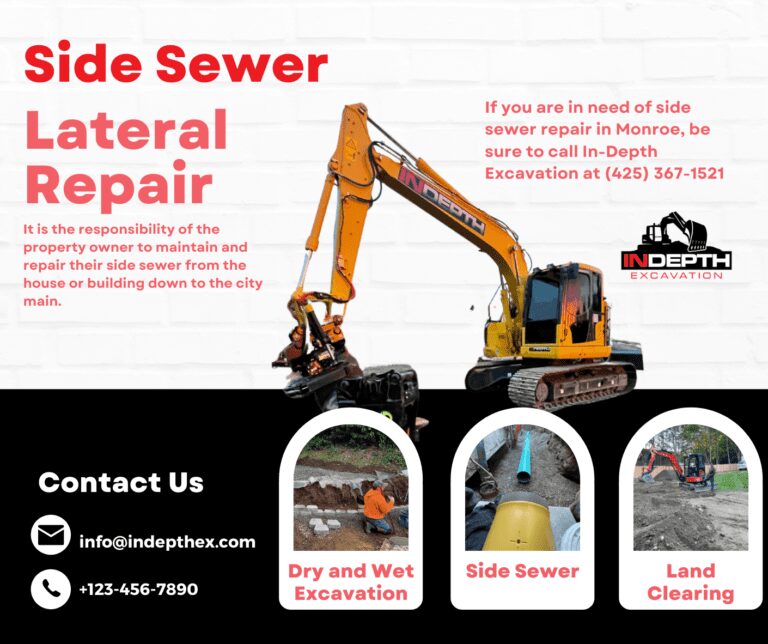 If you are in need of side sewer repair in Monroe, be sure to call In-Depth Excavation at (425) 367-1521
How do I know if there's a problem?
When using multiple plumbing fixtures—like running several faucets and flushing toilets simultaneously—you may experience clogged lines, including wastewater backing up out of drains, slow draining sinks; gurgling toilets; foul odors in your home; and freshwater pooling around utility holes outside. These are all signs that something's up with your side sewer.
You should inspect your side sewer at least once a year and make sure all plumbing fixtures are in good working order. If you find any problems, you should contact a reputable plumber to repair them. Preventative measures such as using cleaners regularly will also prevent many potential problems.
All plumbing fixtures in your home should be connected to your side sewer, including sinks, toilets, showers, tubs, laundry tubs, and washing machines.
The side sewer system includes all plumbing fixtures within your home that connect to the City's main sewer line. These fixtures include sinks, toilets, showers and tubs, laundry tubs, washing machines, and downspout drains.
To maintain these drainage systems, they must be properly installed, periodically cleaned, and checked for other problems. The side sewer lateral is the pipe connecting your house to the City's main sewer line.
This pipe runs from your home's foundation wall to the street or alley right-of-way in which it connects to our main sewers; we refer to this connection point as a "wet tap" or "wet connection."
If a plumber tells you that there is a problem with the side sewer connections, then call us.
Call In-Depth Excavation for side sewer installation and repair. (425) 367-1521
In-Depth Excavation in Monroe is one of the most trusted Pacific Northwest excavation contractors for civil construction and water line installation. Operating in Monroe, Lake Stevens, Marysville, Everett, Mukilteo, we serve residential and commercial clients throughout the region of Snohomish.
In-Depth Excavation provides complete side sewer installation including all permits and site preparation.
When you're looking for a company specializing in side sewer excavation, look no further than In-Depth Excavation. Our trusted experts have been providing top quality service for drainage systems, and side sewer installation throughout the Pacific Northwest for more than 25 years.
We work hard to ensure you can have peace of mind knowing that your sewer system is working efficiently and safely. From new construction to remodeling projects, trust In-Depth Excavation for all your excavation needs.
If you experience any problems with your side sewer such as a blockage, or a break in the line, call In-Depth Excavation at (425) 367-1521. We will inspect the problem and make repairs when necessary.