In-Depth Excavation is Monroe's leading excavation contractor for quality land clearing and land preparation.
Anyone can clear land, right? Definitely not. You or your cousin can not go out with a chainsaw and start tearing down the property because you decided you want to build a pool. (You saw two guys on a primitive survivalist YouTube video build a pool in 9 minutes.) They did it with a pickaxe and a wicker basket sold at Wal-Mart.
If these jungle primitives are survivalists, is it necessary for them to have a luxury pool with secret underground tunnels? Did you happen to notice that the video is highly produced and has long lengths of time completely cut out?
These videos are a scam. They are building in the middle of the forest and working on previously cleared land. When did that happen? Did they clear the land entirely by hand? None of these videos are real or even possible.
The only way to clear and prepare land for construction is by calling an experienced and highly skilled excavation company. Don't get scammed by two guys and a shovel. Call In-Depth Excavation instead for superior land clearing services in Monroe. (425) 367-1521
Land Clearing Services in Monroe
Excavation and land clearing is a highly specialized industry. It's not just about removing trees, bushes, and other plants from an area; it's also about removing stumps, roots, and rocks. Land clearing is important to any construction project because it provides the foundation for a structure to remain stable.
Land clearing is also important for farming because fields need clearing before planting or providing an area for animals to graze. Professional land clearing is necessary whenever you need to start any construction project. (No matter how small.)
Land clearing and land cleaning are often interchangeable, but they aren't the same. Land clearing is the removal of unwanted vegetation from a piece of property. Land preparation includes land clearing, but it also encompasses other steps that prepare a piece of land for use in construction.
For example, if you're building a home on your property, you'll need to excavate space for your foundation and bring in various materials to build it (including cement and concrete). You'll also need to level out any existing terrain features like hillsides or steep inclines before laying down gravel roads that lead up to where your house will stand.
Clearing the land is necessary no matter what you want to build. In-Depth Excavation clears land for any project you may have. We also know how to properly and safely execute demolition, in case there is something on your property that you want removed.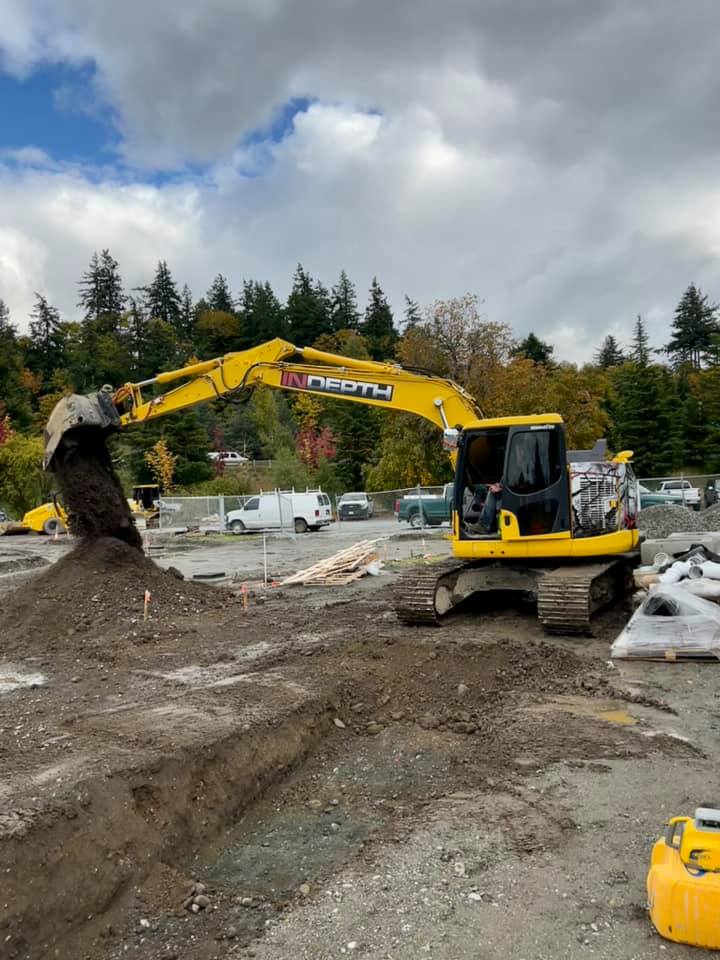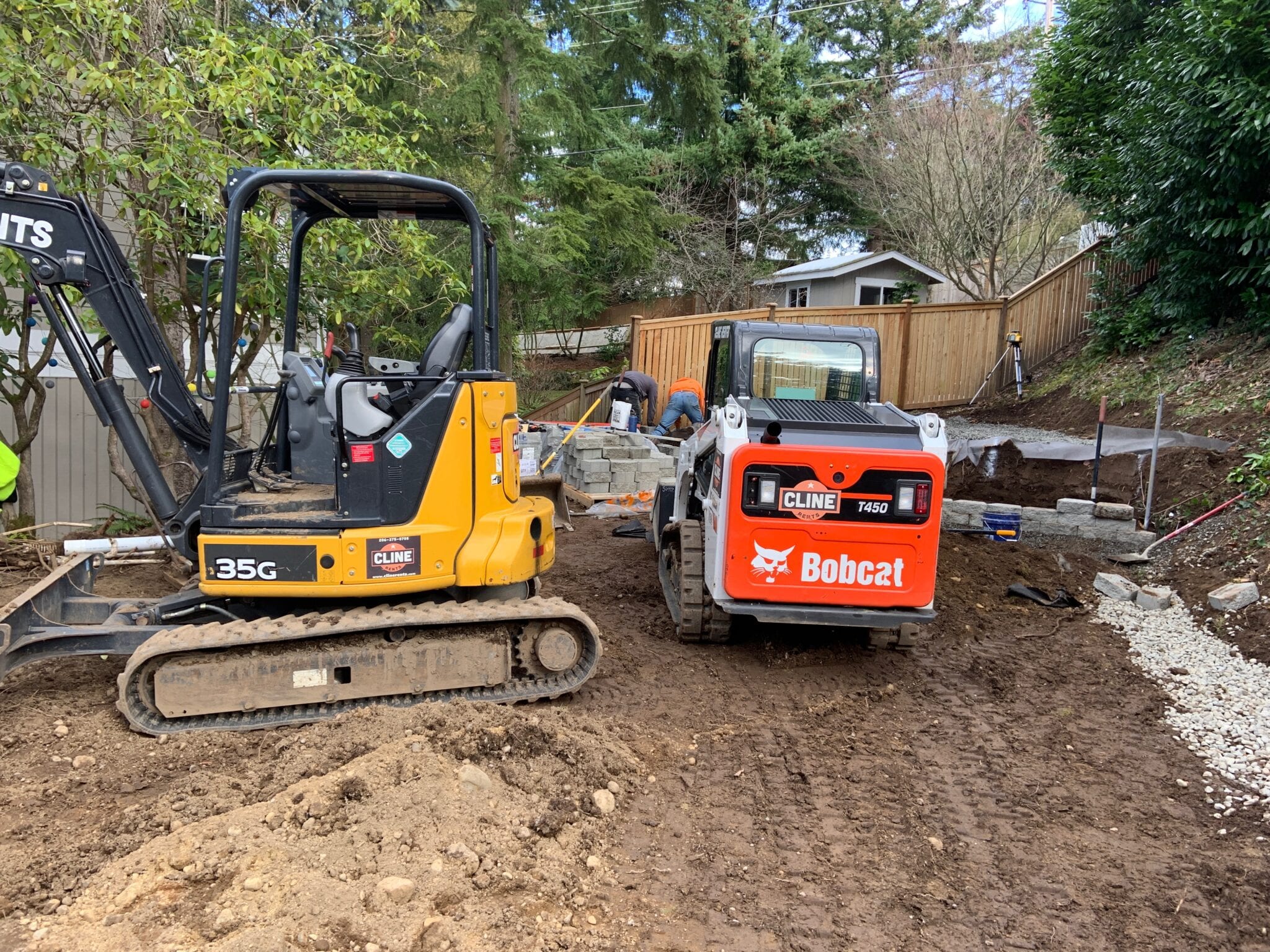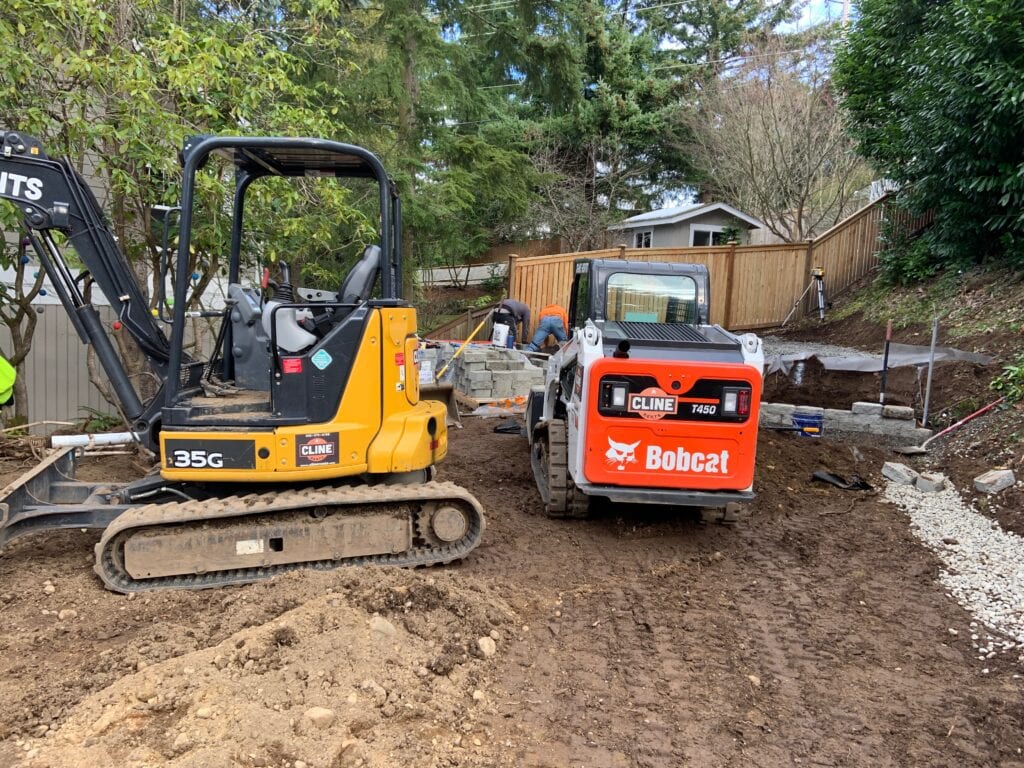 Land Clearing for projects prepares land for:
Outdoor entertainment spaces
Patios
Pools
Kid's playground
Tennis & basketball courts
Landscaping
Gardents
Retaining walls
New Houses
Modular homes
Garages
Car Ports
Safe excavation is our specialty.
Due to the variety of available methods and the need for professional equipment and expertise, most landowners prefer to hire these services rather than do it themselves. In addition, land clearing is a specialized skill that requires a high level of competence and experience. As such, there are many dangers involved with this type of work. For example, using heavy machinery on uneven terrain can result in injury or death when something goes wrong.
Please don't excavate your property without an experienced professional. The team at In-Depth Excavation has the required safety training for this type of work. In-Depth Excavation works closely with the county of Snohomish and follows all safety codes, procedures, and regulations.
Land clearing and land preparation is a complex process that involves removing unwanted vegetation and preparing the land for the next step in its transformation. It's not just about chopping down trees. It's about making sure the site is ready to be developed. Land clearing services are available through many different companies, but only In-Depth Excavation provides you with professionals who consider all of the important factors before we begin.
We'll give you a plan that works.
When you call In-Depth Excavation, you'll let us know what your project includes. We'll guide you on your ideas and make recommendations to save you time and money. Let us know your vision, and we'll make it happen.
We will organize a strategic plan using state-of-the-art tools and industry techniques. We work with local contractors, so if you have a few things going on with the property, we are flexible with changes and outcomes. We are happy to communicate with you and your teams at all times.
We lead projects with guts, determination, and the most powerful excavation equipment in Snohomish County. We own our tools and trucks, so you never have to rent trucks or extra gear. We are open to helping you if you have a smaller budget and we are equipped for larger projects.
We take communication seriously.
You need to hire an excavation company with civil engineering experience to lead and guide the project. Clearing land is a process that requires careful planning and preparation, and In-Depth Excavation is here to help. We provide you with the tools, experience, and support needed to make your project a success.
Our job is to ensure that we meet and exceed your expectations. We do that by remaining committed to you and the planning process. We always let you know where we are at in the project and what we are doing. We listen to everything important to you and include your specific wishes in the job. Whatever it is you need, please ask questions and talk to us. We are always available for our clients.
We will finish the job properly and on time.