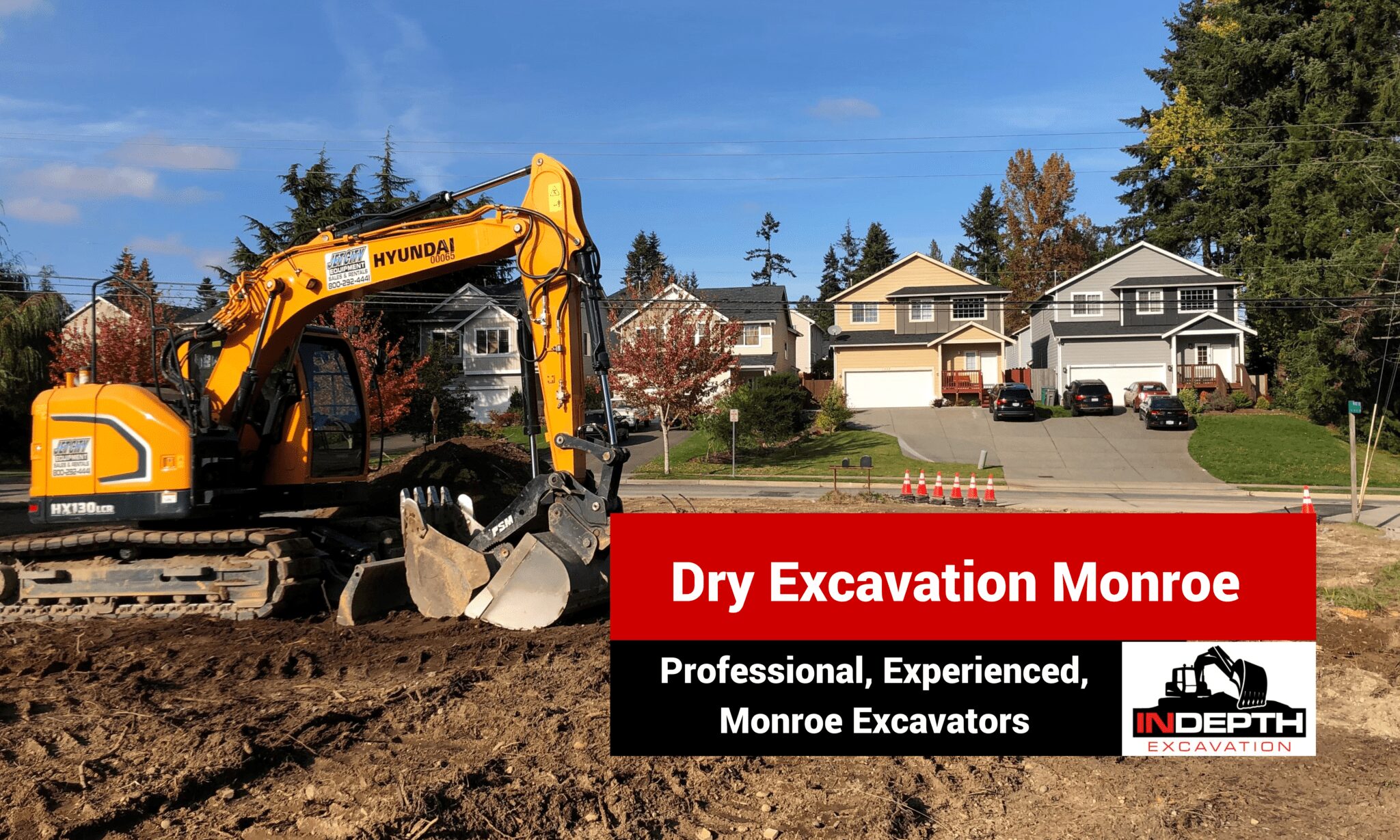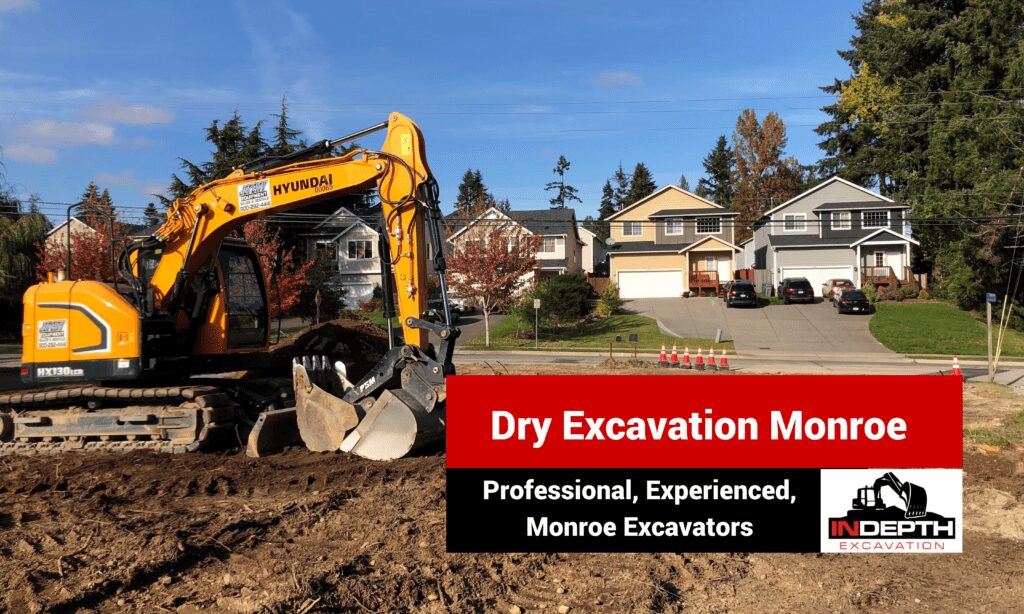 Your expert Monroe excavation contractor is In-Depth Excavation. In-Depth Excavation is a full-service company offering full excavation services for large construction, and private earthwork projects.
Snohomish County offers beautiful landscapes, deep woods, rivers, streams, and mountains. With these natural elements offered, many people are moving in and building their dream homes on rigid properties and messy, hilly landscapes. If residents want to expand on their property, it's necessary to have access to an experienced excavation team!
If you are a contractor working on a new build or are about to hire contractors for your new house, make sure you add In-Depth Excavation to your team. (425) 367-1521
When it's time to break ground for your new house, you need an experienced professional to clear the land, open the earth, move boulders, dirt, and debris to start working on your foundation. In-Depth Excavation is Monroe's #1 master excavators, and they are ready to take on your dry excavation project.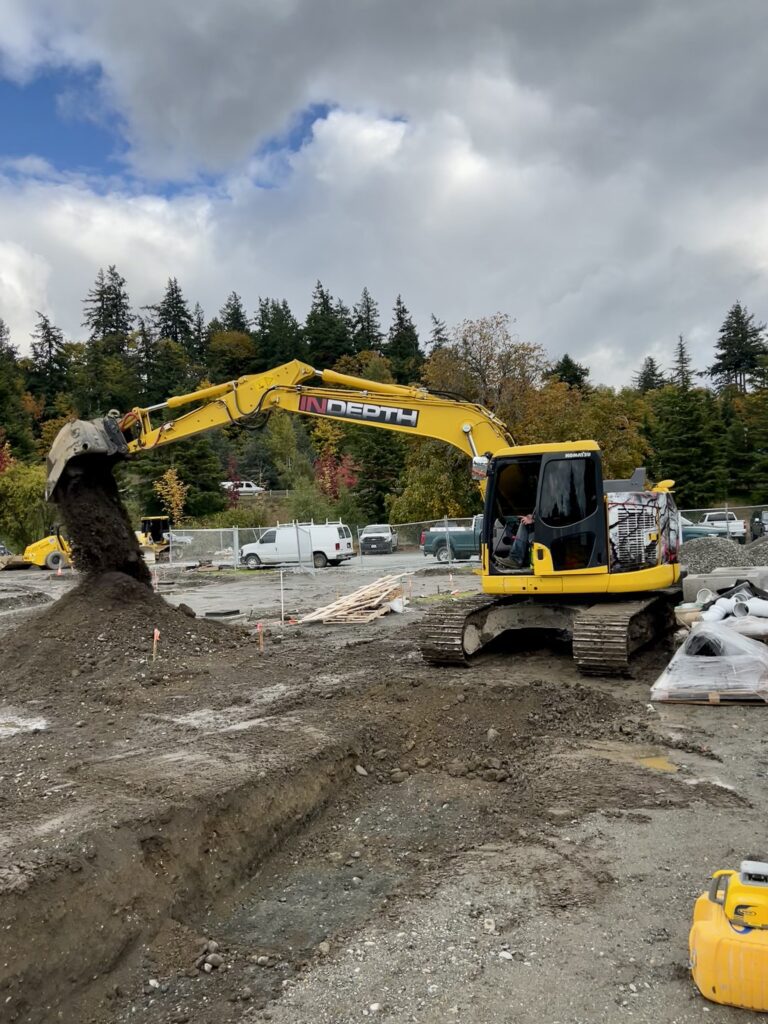 Earth Moving & Land Preparation
Excavation requires preparing the land for the type of construction your project requires. Most clients want to build an outdoor entertainment area, such as a patio, pool, or enhance landscaping and backdoor areas. If a foundation is required, the land is prepared first with standard dry excavation methods.
Dry excavation includes the removal of old-growth stumps, unusable land material, and overgrown blackberries. We clear away all that we can and then grade or level the land so that it can maintain a strong foundation.
Next, we dig the hole, scoop out the unworkable soil, replace it with usable earth, and add the materials that strengthen the ground for building. We install everything needed for support, smooth it out, and get it ready for the next step of construction.
In-Depth Excavation provides land clearing services for commercial and residential customers. We have the expertise to handle projects of any size and scope, from small tree removal jobs to large-scale site preparation for construction. Our experienced team delivers consistent results on time and within budget.
In-Depth Excavation takes away the nonfunctional earth on your property. We also provide demolition for those unsightly rotting structures you need to disappear! Our land clearing services include leveling difficult terrain and preparing it for your project.
Land Clearing
Land clearing services remove trees, overgrowth, brush, leaves, stumps and bumps from your property. In-Depth Excavation removes difficult terrain that is unbuildable due to the presence of roots and deep-rooted growth. We can handle any land clearing project you have in mind. We are highly trained, proficient and skilled in land clearing.
Earth Grading
Earth grading is the step where we smooth out the hills and inclinations and make a flat surface or create an incline that works. Grading is the work of leveling the land in order to provide a level base or one with a specified slope. We provide earth grading with many other excavation services.
Professional, Experienced, Monroe Excavators
In-Depth Excavation is a local business that has the methods, experience and equipment to do your job safely and efficiently. We own all of our equipment so you will never have to pay to rent equipment or hire outside help.
We finish our work promptly, and we remain in communication with you about our plans. We are flexible when plans require changes, which is often the case with construction projects. We also work great with other area contractors, so if you have a few projects going on, we are happy to engage and help where it's needed. We offer advice and provide solutions on how to save money on projects. We will also recommend other trusted home contractors if you require further home services.
Safety and quality are our highest priorities. We believe that a good project can be completed only if safety and quality are maintained throughout the process. We understand that a good project is a safe project.
Our work includes:
Cost-effective solutions

Finishes within budget and on time

Follows directions, and communicates with all involved parties, other contractors, clients, county, and neighboring projects

Top-rated references and reviews

The ability to maximize the land's usage

Knowledge of Washington State terrain, environmental factors, laws, and permits.

Up to date with required registrations, licenses, insurance forms, and worker's comp.

We practice safety protocols, procedures, and requirements.
Land Clearing increases property value
Clearing land expands its purpose and value. The maximum use of land is the main goal for those who purchase a property. Clearing cleans the ground, makes it workable, and keeps it healthy. By properly clearing the ground and nurturing it with workable soil, homeowners can improve the appearance and value of their real estate investment.
Our customers are our #1 priority.
In-Depth Excavation is passionate about our work because we focus on every project to make it the best it can be. We are committed to your positive customer experience, and we will guide you through the excavation process.
Our customers make us #1 because they have trusted us over the years to produce excellent results and fulfill their visions.
The team at In-Depth Excavation cares about all aspects of the job. We always take the time to get a complete understanding of what you want. We leave your property cleaner than we found it and fix any problems that arise so you're satisfied with your experience. We'll give you a fair and honest estimate with no hidden fees or price gouging.
Check out a customer review!
"Dillon and his crew completed an extensive job for us, that at least one other company wouldn't touch. The knowledge he brought to our job site was incredible, and the team worked very efficiently. The outcome far exceeded our expectations. He was prompt with getting us a bid, payment was painless, and his professionalism was refreshing." ~ Brett Blair
When searching for excavation services in Monroe, Call In-Depth Excavation. (425) 367-1521