Earth Moving – Everett Excavation Services
Revamp your property and construction project with Everett's preferred excavation contractors.
Excavation services are much like digging a hole in the backyard but on a much larger scale. You'll need an excavation company if you are redesigning your property and need to move large pieces of earth. 
If you want to revamp your backyard, it will be necessary to dig out any old plants or trees that have embedded themselves in the ground. This type of earthwork requires excavation tools and can not be dug out by hand. At In-Depth Excavation, they own all of the equipment. You will never have to worry about renting extra tools, trucks, or equipment!
When you call In-Depth Excavation, you get guaranteed guidance, experience, and professional earth-moving services.
In-Depth Excavation is Everett's Excavation Experts.
In-Depth Excavation is Everett's most trusted and valued excavation resource. The team offers complete excavation services from earth moving to demolition. They are great with homeowners who want to start a construction project on their property but aren't sure what to do to complete a successful project.
Property owners know they need to make some revisions but aren't always sure what they are or how to do it. Because not everyone understands the excavation process, the In-Depth team completely guides you and explains how your dream property is easier to attain than you think. If you need help designing or improving your property, call In-Depth Excavation. (425) 367-1521
Whether you're preparing your property for an upcoming construction project or simply looking to remove debris from your yard, In-Depth Excavation will help. The team at In-Depth Excavation understands how various types of soil, rock, and other natural materials will react during excavation processes. Understanding the soil and earth means they can perform the work quickly and efficiently.
You tell them what you want to do, and they develop a customized plan, explain the process to you, and ease any anxiety you may have about the project. In-Depth Excavation is awesome for helping you manage your landscaping. 
In-Depth Excavation offers a wide range of excavation services that include:
Digging holes or trenches
Grading land
Leveling
Adding sidewalks
Landscaping
Sewer lines 
Water repair
Make room and prepare the land for extra entertainment space.
How In-Depth Excavation helps you with your earth-moving project.
In-Depth Excavation saves homeowners time and money by providing top-of-the-line earth moving services. The owner of In-Depth, Dillon Aschenbrenner, is involved in every aspect of the job. He takes his time with you and will inspect the land's topography before recommending how best to proceed with modifications or construction plans. 
You will get detailed suggestions on the best approach for the job and how the team will tackle each project phase. They will keep you informed and work with your best intentions. For more information about Dillon and his passion for helping homeowners increase the value of their property with earth-moving services, see the About Page on this website.
After you receive a guided plan with your free estimation, the team will arrive and start breaking and moving ground. You may wonder how earth moving services will work for you and for what kind of projects. Earth moving and excavation services are great for:
leveling ground for swimming pools.
adding porches and decks.
installing play areas for kids.
starting a garden.
Installing driveways
Building work space
Rebuilding or demolition of old structures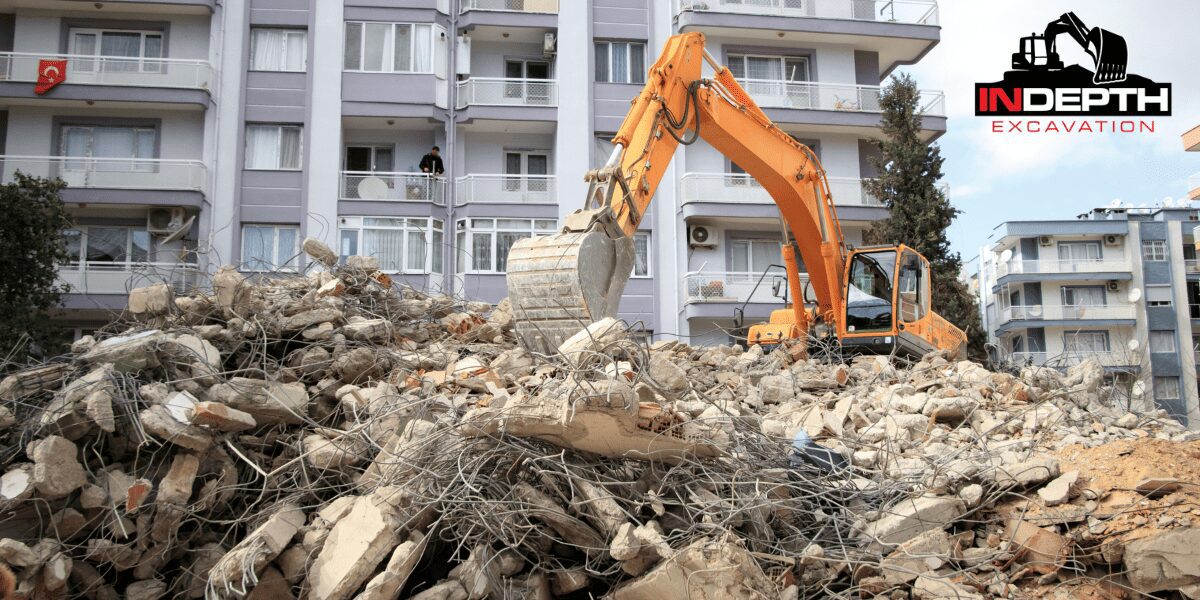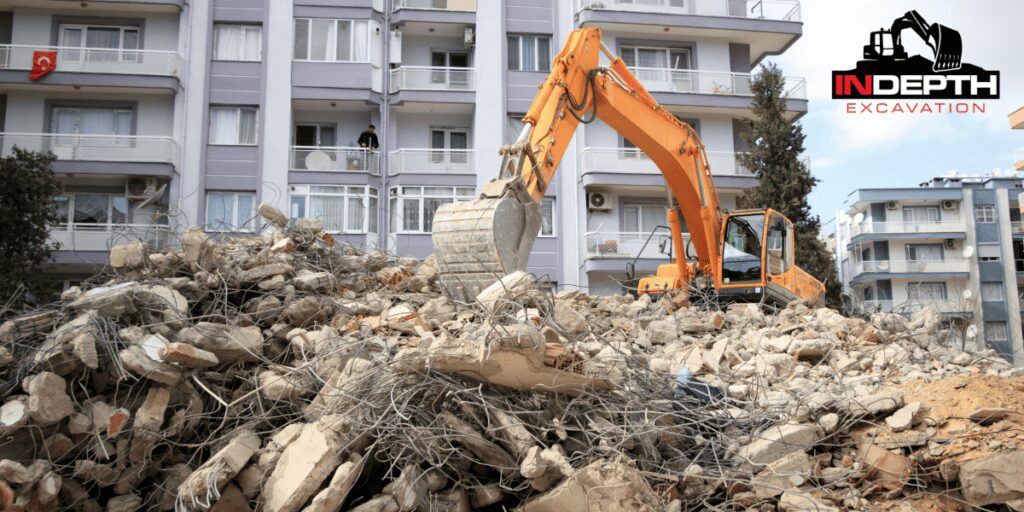 In-Depth Excavation has the capacity to work on large construction projects, including
Preparing land for construction
Leveling
Removing and concrete removal
New home excavation
Site Excavation
In-Depth Excavation is an earthmoving contractor that consists of professional industry specialists who ensure that the required groundwork meets Everett's regulations and procedures for a safe and proper construction project.
The team are professional earthmoving contractors who work with construction project managers and industry specialists to ensure that the required groundwork is properly accomplished.
If you are a project manager or construction contractor working on a big project in Everett, you can trust that In-Depth Excavation provides the services you need to ensure the earth moving, breaking concrete, and Excavation is a smooth, flowing operation.
In-Depth Excavation has the earthmoving capabilities you need to complete your next project. With more than 20 years of experience, we're skilled at excavating on all types of land, including residential, commercial, and agricultural areas.
Fast response time and high customer satisfaction are two of the most important factors we care about.
An ethical contractor will be able to do the job quickly and efficiently. They'll also explain everything they're doing so that you understand what's happening with your property. You should be able to get started on your project as soon as possible, and professional service providers should be willing to give you a free estimate for the work you need completed on your property. We care about our customers.
In-Depth Excavation has been recognized in and Everett for being the leading and best excavation contractor.
"I had a somewhat complicated project in Everett but In-Depth Excavation took care of it very professionally and on time. My project required tapping into main sewer from my property but under a big retaining wall.  The guys got all the materials, Survayer, soil engineer and city and county inspectors handled.  Everything went well and the project was done and approved by Silver Lake Sewer District and Sno County. All this was done within the quoted price.I would recommend In-Depth Excavation to anybody and I will definitely use them again in the future." ~ Edis, Everett