Beyond the Dig: Our Comprehensive Excavation Services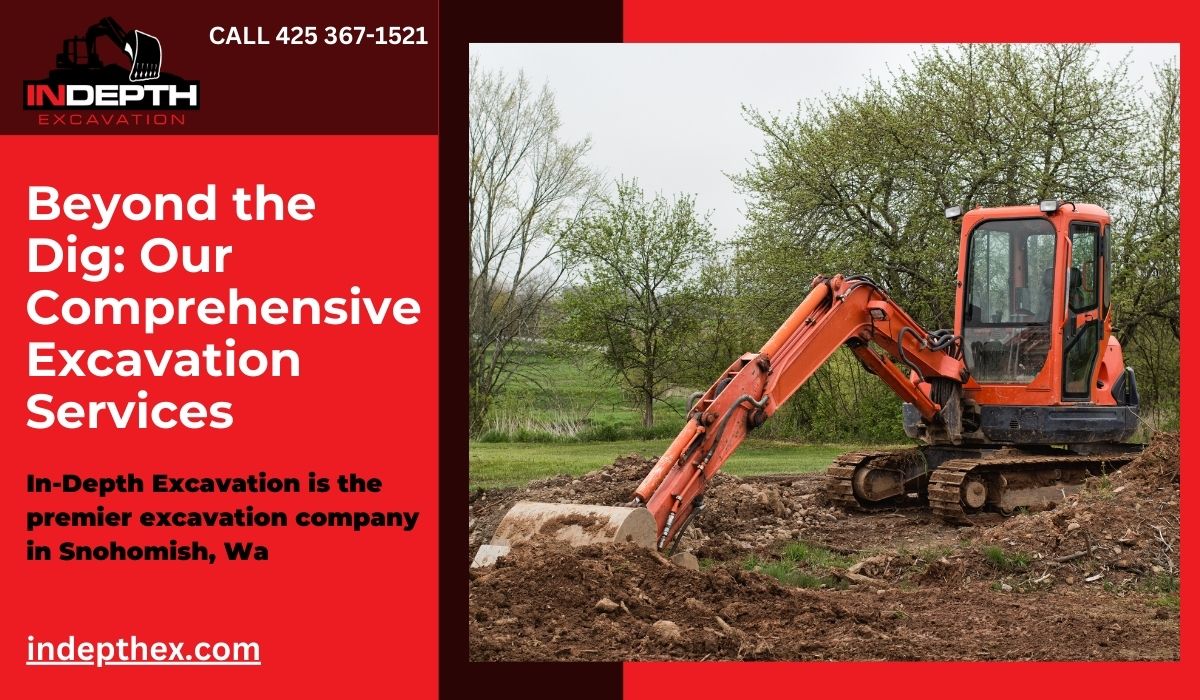 In-Depth Excavation is the premier excavation company in Snohomish, Wa., providing comprehensive excavation services to meet a wide range of needs.
In-Depth Excavation is the top excavation company in Snohomish, WA, providing professional, courteous, and responsive service to our customers. With over 20 years of experience in the field of excavation, we are equipped to handle all your Earth Work, Utilities, and Demolition needs. Our devotion to quality and the nature of our work contributes to happy customers that would recommend us and work with us again.
We offer a complete solution to excavating problems and challenges. Our attention to safety and quality, as well as the professional nature of our work, contributes to the successful completion of your project.
We provide large or small land and structural import and export projects, and we offer both dry and wet excavation services. We can build or retrofit water, sewer, storm mains, as well as electrical, fiber, and gas. 
We handle earth-moving projects, like mass excavation and import for street improvements, building pads, warehouses, tilt-ups, concrete removal, and new home foundation excavations. 
We also take property and remove tree stump removal, stripping, and overburden. We self-perform complete and selective structural demolition projects throughout the Pacific Northwest. 
We offer fine grading residential and commercial projects involving sloping, crowning, or "valleying" roadways for proper drainage. We build driveways, construction entrances, and offer complete site work development. Our side sewer repairs include specialized experience in water line leaks, waterline location, sewer lining, and pipeline replacement.
Ethical, Responsible Excavation Services
At In-Depth Excavation, we hold our values of being ethical, responsive, adequately priced, and customer service oriented in high regard. We work closely with our customers to give them exactly what they want for their project. We offer advice when guidance is needed. We care about all aspects of the job and take the time to get a complete understanding of what our customers want. 
We pride ourselves on leaving the job cleaner than when we arrived. We fix it if something breaks or fails or isn't what the customer wants. We don't take shortcuts to save time or money. 
In-Depth Excavation is the premier excavation company in Snohomish, Wa., providing comprehensive excavation services to meet a wide range of needs. With years of experience in the industry, we have built a reputation for excellence that is unmatched in our area.
Why Choose In-Depth Excavation for your excavation projects.
At In-Depth Excavation, we have a team of highly skilled and experienced professionals who are experts in excavation services. Our team has decades of combined experience in the excavation industry, which means that we have the knowledge and expertise necessary to handle any excavation project, no matter how complex or challenging it may be.
We offer a comprehensive range of excavation services that are designed to meet the needs of a wide variety of clients. Our services include site preparation, land clearing, grading, excavation, and demolition, among others. We have the equipment and resources necessary to handle projects of all sizes, from residential to commercial.
At In-Depth Excavation, we take pride in the quality of our workmanship. We use the best materials and equipment available, and we adhere to the highest standards of safety and quality in all of our projects. Our team is dedicated to delivering exceptional results on every project we undertake.
We are committed to providing our customers with the highest level of service possible. From the initial consultation to the completion of the project, we work closely with our clients to ensure that their needs are met and that their expectations are exceeded. We believe that communication is key to a successful project, and we strive to keep our clients informed throughout the entire process.
At In-Depth Excavation, we believe that quality excavation services should be affordable and accessible to everyone. That's why we offer competitive pricing and flexible payment options to meet the needs of our clients. We also provide free estimates for all of our services, so you can know upfront what to expect.
We care about our customers and their projects, and we work hard to get the job done right.